Jasmine Mendez LatinAss Locas – Extreme Scream – BallBusting !
Jasmine Mendez LatinAss Locas – Extreme Scream – BallBusting !
You put your feet on the desk, always wearing shoes, and you begin to complain about your tight shoes!!You have super long feet and toes size 42 and it is impossible to find the right shoes(a foot of 27 cm in length in the last measurement for my custom video!!!
You don't want to deform your money makers, so you take off your shoes ,showing your long soles and toes to the camera ,always stretching your soles and toes( you must put them back towards you, so the foot arch becomes flat and your soles look even longer
then they are ) You cross your legs and you do the same (always stretching and putting them back)
Camera film from different angles(in front of ,from right, from left), but always so to emphasize the length of your feet
In this video your feet must appear gigantic, but always filming your feet in their entirety
You call your slave because you want to try other pair of shoes( only pump ,sandals and flat ballerinas)
You try 5 or 6 pair of shoes( film very close to your feet while you are trying),but you notice clearly that no one shoes you well
You cannot always find size 42 or 43, so you have to resign!!!But you must protect your wonderful feet!!
There is a solution!!!You read that the human sperm has a great emollient and regenerating power ,is better than any cream!!!But it must be shaken before it comes out of men's cock!!!
So you have a great idea!!!!You call the slave ,you order to him to lay on the floor, close to a table
You come and you start to trample his cock and balls barefoot, you are like a wild beast, you put your hands on the table to be more stable and you trample using soles and toes
You take off his underpants using your feet and you his cock and balls in the wildest trampling action you can find on the net(please Jasmine make your wildest and cruel video ever)Your toes enter in his ballsack, your big toe crush his balls one at a time, incredible cruel action
Camera must film very close only your feet and your toes massacring his balls and his cock
But you must shake again, so you order to him to stand very close to you while you are sitting on a chair or a armchair or a sofa and you start to ballbust him from behind
Camera stay in front of the slave at the same level of his balls filming very close your feet against his balls
When you deliver your kicks you stop your foot between slave's legs just against his balls, so camera film your long sole that appear between his legs So every time you deliver your kick you stop the foot to show your big soles to the camera in the foreground
Now you decide to the deliver the most dangerous kind of kicks, the toe kick!!!!The most destructive one!!!!
So the camera film in the foreground the incredible and violent impact between your big toe and the slave's balls!!!!
This scene is forbidden to the weak in heart!!!You deliver at least 10 Very Violent TOE KICKS!!!!
But you want to be sure that you have hit his balls enough to have a very good natural cream for your wonderful feet!!!
So you decide for the last treatment you order to him to stand with his back against the wall keeping his legs wide open while you lay on the floor with your back and you start to lift him putting your soles on his balls( leg press exercise )
Camera film only your feet on his balls very very close( when you lift him you can see how much your feet are deforming hit balls!!!!)It is a real !!!!The slave scream like an !!Jasmine is cooking her famous scrambled eggs!!!How small his balls appear to be at Jasmine ,s size eur 42 feet!!!
Now his balls are ready to extract the nectar!!!
So suddenly you change your attitude,( you are a diabolical woman!!!) and you become sweet and sexy
You begin to caress his cock with your long and sexy hands, you wraps his cock with your long fingers and you start to masturbate
He is so excited, so you also lick his neck and his ear with your super sexy tongue
He is becoming crazy and you decide to conclude your work with a great FootJob
He is laying on the floor ,you stand close to him, between his legs, you put one foot on his cock and you start to masturbate back and forth until he explode like a volcano!!!
But you do not want the happy ending!! So exactly in the same moment he is cumming, you jump on his cock with both feet crushing his balls ,screaming" i want to see go out to' the last drop!!!! "And your big feet continue to crush his cock and balls trying to collect every drop of his precious nectar!!!!
Now you sit at your desk, putting your soles in front of the camera ordering to' him to spread the nectar on every inch of your soles and toes
You continue to show your cummy dirty soles to the camera (always stretching your soles, putting back soles and toes and crossing your legs)
This action continue for minutes while you speak about your wonderful feet and toes and about the love of your fame for them and for the fact that they are so big!!!Probably if you had a size 7 or 8 it would not have been the same!!!
You reveal you are so proud of your big size 11 feet(42 euro!!!)
P.s. Jasmine please choose a good slave ,who can really excite and really love your feet, so can see a real cumming action

Starring: Jasmine Mendez
Size: 788.5 MB
Duration: 00:17:52 min
Resolution: 1920×1080
Format video: mp4
Preview: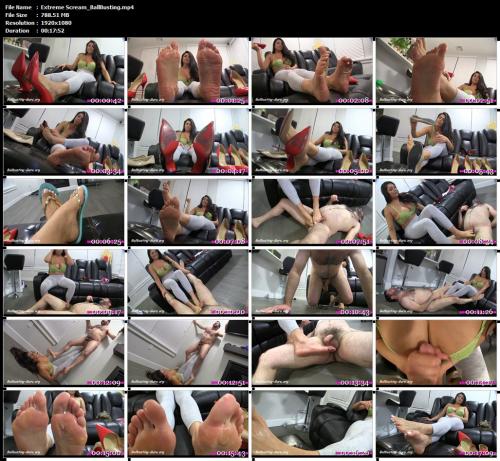 Download link:
Extreme_Scream_BallBusting.mp4