Triple Team Ball Breakers – She Owns Your Manhood
Triple Team Ball Breakers – She Owns Your Manhood
Lydia Black took Lance Hart home to fuck. She just needs some dick. While making out he asks if she has roommates. She seems a little nervous about the question and tells him they are crazy jocks and probably watching sports somewhere. He thinks nothing of it and starts to eat her pussy.
Then Charlotte Sartre and Brittany Andrews bound in wearing sporty leotards with shiny pantyhose and sneakers. "PENALTY! EATING PUSSY ON THE SOFA! THAT'S 20 KICKS TO THE BALLS!"
Lydia rolls her eyes and hands Lance a ball gag, complaining to her crazy roommates that she just wanted some dick. Lydia changes into a matching sporty leotard with shiny pantyhose and the three take turns kicking him in the balls as hard as they can. They really hurt him while they bounce around and laugh.
"Let's cut his balls off!"
"No let's crush them in a vice!"
"I wanna wear them as earrings!"
They brutally knee, kick, stomp, slap, squeeze and punch his balls until he is in a daze.
"Guys, I think we should fuck him in the ass before we completely nut him."
To be continued…

Starring: Charlotte Sartre, Brittany Andrews, Lydia Black
Size: 723.1 MB
Duration: 00:12:12 min
Resolution: 1920×1080
Format video: mp4
Preview: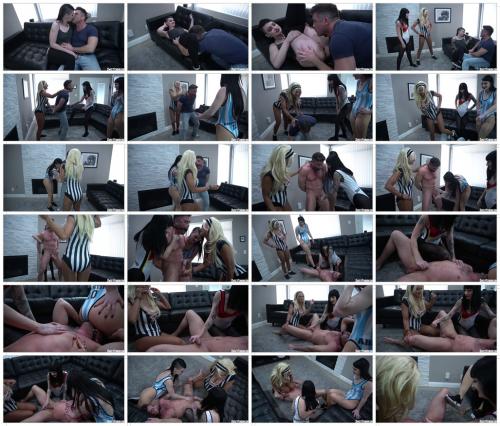 Download link:
Triple_Team_Ball_Breakers.mp4