Sara Jay Has Sex Slaves FULL – She Owns Your Manhood
Sara Jay Has Sex Slaves FULL – She Owns Your Manhood
Lance Hart and Alex Adams are strapped down in Sara Jay's personal dungeon. She's been keeping them captive for an unknown period of time, using their cocks and tongues for her pleasure, not letting them cum. Sara loves making strong men squirm with aching blue balls while she uses them to have orgasm after orgasm. She especially loves to squeeze their aching blue balls.
She grinds her big ass covered in pantyhose on their faces and cocks, then squeezes their balls to make them scream and moan. Her slaves beg for mercy, but are so lost in their lust and full balls they mostly just want to cum.
After driving them both nuts with teasing and squeezing, she rips open her pantyhose and lubes up their cocks. It's time for her to cum. As she strokes Lance's cock to make it hard for her, she squeezes his balls, "What do you think I should do with these.?"
Lance begs and moans and squirms as she strokes. She keeps him on the edge but does not let him cum yet.
Sara slides one slave's cock into her pussy, making the other watch, going back and forth using their dicks for her pleasure. When one is about to cum, she moves to the other, driving them nuts. Both slaves are delirious on the edge of cumming, desperate for release while they get used.
When Lance thinks he can't take anymore, she sucks his cock and edges him some more while squeezing his balls before sliding her wet pussy back on his cock and filling herself up with his load. He's no good to her anymore, so she moves on to Alex, who is still strapped to the bed.
Sara gets Alex's cock hard by sucking on it, then slides her cum filled pussy on his hard dick, using it to have another orgasm. Then she sucks and stokes his cock until he cums in her mouth. She leaves him tied to the bed for later.
TEASE AND DENIAL, EDGING SEX, EDGING, FEMDOM SEX, PANTYHOSE, FACE SITTING, CREAM PIE, COCK SUCKING, BONDAGE, MALE SEX SLAVES, BIG TITS, BIG BOOTY, ACHING BLUE BALLS, CUM

Starring: Sara Jay
Size: 1.1 GB
Duration: 00:24:38 min
Resolution: 1280×720
Format video: mp4
Preview: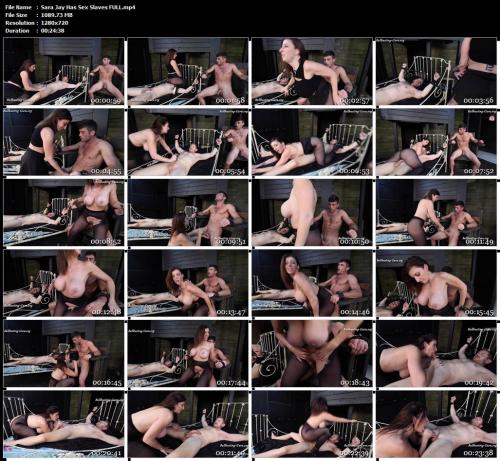 Download link:
Sara_Jay_Has_Sex_Slaves_FULL.mp4