Slap His Balls and Feed Him His Cum FULL – She Owns Your Manhood
Slap His Balls and Feed Him His Cum FULL – She Owns Your Manhood
Terra Mizu and Chrissy Daniels are at a fetish lounge, all dressed up in nylons and fetish wear but they're bored. It's make a guy cum on his own face!
They decide to just grab the next guy that walks by and make him cum on his own face. That's when Lance Hart walks by.
"Would you like to cum tonight?Terra asks him. Of course he's down. "But, you have to cum OUR WAY…
Lance doesn't seem to give a fuck. Chrissy gets behind him and holds his arms. Terra knees him right in the balls. They take turns giggling and teasing him and passing him back and forth, kneeing him in the balls. They lay him down on the sofa. Terra puts his head in her lap with her amazing tits over his face while Chrissy drives her high heeled shoe into his crotch.
You like my heel in your ballsChrissy giggles. Lance can't response because Terra has her hand over his mouth and is making him suck on her fingers. Lance is clearly really turned on, but a little scared.
Chrissy starts to slap his balls over his pants. She's wearing leather gloves. She grabs his hard cock through his pants. that pre-cum?"He must like a little abuse…
Terra orders Lance to grab her tits while Chrissy keeps slapping the fuck out of his nuts. They giggle at what a perv he is. Terra decides to smother his face with her ass while Chrissy abuses his balls with her feet. Chrissy sits on his lap and grinds his balls with her ass. "Are they sore? [giggle]
Terra and Chrissy start kissing each other while Chrissy slaps and squeezes his balls. "He's soaked!They humiliate him for dripping so much pre-cum in his pants. you think he's ready…?
You're going to take a huge load right on your face…Chrissy tells Lance as she slaps his balls hard one last time.
BALLBUSTING, BALL SLAPPING, BALL SQUEEZING, FACE SITTING, PANTYHOSE, FISHNETS, FETISH WEAR, BIG TITS, BIG BOOTY, COCK TEASE, PRE-CUM, SENSUAL FEMDOM, ASS WORSHIP, HAND OVER MOUTH.
Terra his holding Lance's head in her lap, fingering his mouth while he tries to stroke his own cock. Chrissy is stomping his balls and giggling.
They are going to make him jerk off into his own mouth for their amusement. They've teased his cock so much at this point, he'll do anything to cum.
You like stroking your cock while she crushes your balls? Slut.Terra teases him with her perfect huge tits over his face. Chrissy slaps his balls while he tries to stroke his cock.
en your legs wider so she can really smack your balls.Terra orders Lance. He obeys. He continues to stroke his cock in a horny daze. Whenever he starts to moan and twitch like he's about to cum, Chrissy smacks his balls hard and they laugh. They are keeping him on the edge for as long as possible. They want to build up a huge cum shot for his face.
They flip him around so his legs are above his head to get him in position. Terra takes the opportunity to scissor his neck and squeeze his face in between her fishnet and pantyhose covered thighs while he continues to try to cum.
Chrissy lifts his legs up as he gets close to orgasm. "If you don't keep jerking off, I'm going to stomp your fucking balls… You wanna cum, right?Terra stands over him, celebrating their victory and calling him a slut as he blows a huge load all over his own face. They laugh and tease him while he swallows his own cum.

Starring: Terra Mizu, Chrissy Daniels
Size: 737.2 MB
Duration: 00:23:43 min
Resolution: 1280×720
Format video: mp4
Preview: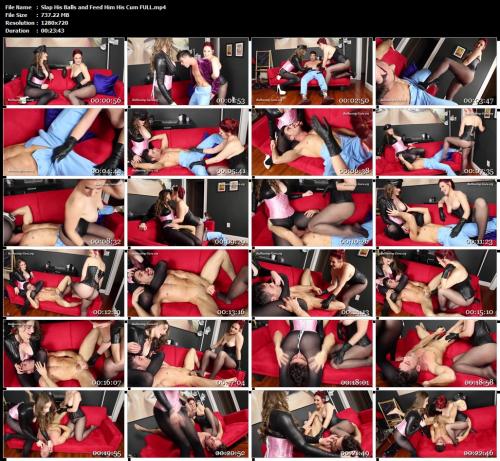 Download link:
Slap_His_Balls_and_Feed_Him_His_Cum_FULL.mp4